Woodworm - wood-boring insects
Dampworks Ltd - Reg Company Number 7526238 England - Vat Number 128651310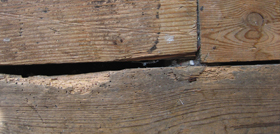 Woodworm is the general name given to any beetle found in building timbers which feeds on wood.
The species most often found are Common Furniture Beetle (Anobium punctatum), but other insects such as Death Watch Beetle, Powder Post Beetle can often be found in older period properties. DampWorks offer a comprehensive range of eradication treatment services: our specialist surveyor will determine the type of infestation and appropriate treatment to prevent future attacks.
Where treatment is required to affected timbers, our technicians use ecologically sound, low odour preservatives which only require properties to be vacated for a short time; often re-entry is possible later the same day.
We provide a 20 year guarantee on woodworm treatments such as Common Furniture Beetle. Details of the guarantees available to meet your requirements will be provided by our surveyor.